Making Sense of the Situation In Israel
Thursday, May 13, 2021
•
2 Sivan 5781
6:00 PM - 7:00 PM
on Zoom
Like many you, I have been watching the unfolding events in Israel with fear and anxiety. With the tension escalating to the point of potential warfare, we pray for calm as well as the safety and security of all of Israel's inhabitants.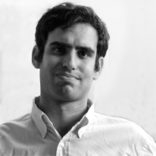 Given the many factors towards this renewed violence, it can be easy to feel overwhelmed in trying to understand the situation. In such cases, it pays to call upon experts in the field to cogently explain what is happening on the ground. To that end, I am excited to inform you that I will be interviewing one of the leading journalists in this arena, Ben Sales of the Jewish Telegraphic Agency, who recently co-wrote the very helpful article, "The Fighting in Gaza, Jerusalem and Across Israel, Explained":
https://www.jta.org/2021/05/10/israel/the-fighting-in-gaza-jerusalem-and-across-israel-explained
View the video above for a candid discussion of how we got here and what elements will determine whether this renewed violence will result in a regional skirmish or all-out warfare. We hope to make a very complex situation a bit more relatable.

Share Print Save To My Calendar
Thu, November 30 2023 17 Kislev 5784